This is the story of little Nueng Te Cong, or Julie Peacock, a tiny Vietnamese girl left for dead by the Viet Cong after they murdered everyone in her village, including her family, and rescued by US Marines who took her to the China Beach Orphanage, near Da Nang, under the direction of Rev. and Mrs. Gordon H. Smith.
THE TEN DANGEROUS YEARS
By Mrs. Gordon H. Smith
Neither enemy mortars, Vietcong intimidation, not dangerous trails prevented the
Gordon Smiths from continuing their mission to the Vietnamese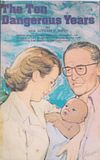 Chapter 22
Miracle in a Tiny Girl's Tragic Life
Three-and-a-half-year-old Cong, of some village near Da Nang, should have been dead. That is, if a unit of US Marines hadn't cared. They found this sick, little brown Vietnamese doll lying on the ground, blind, whimpering amid the ruins of her home and parents. The Communists had just burned down her village, killed her parents and the other villagers, and even had cut little Cong deeply across the top of her head. She should have died. The Vietcong wanted her to, desiring no witnesses. "They killed my father first. Then they hit my mother and she soon died," said little Cong in her voice weak with fright. …

Little Cong
The Marines took her for their little mascot. As she was blind, no one around wanted her. She had been abandoned to die there on the ground. The Marines carried her into our orphanage. She was just skin and bones and very ill. She had suffered terribly with glaucoma because of her malnutrition, and one eye was completely destroyed. The other eye was almost gone.

Little Cong with Gen. Lewis Walt, future Commandant of the Marine Corps
Our two nurses from Holland, Mimi de Fosse and Nelly Heyboer, took charge of her, feeding her well and taking her to the nearby American Naval Hospital for treatment. She responded well, soon gaining weight and brightness and becoming a lovable, talkative, very charming little girl. The eye doctors at the hospital said that Cong might see again in the one eye if she could have a corneal transplant. But they gave her only a slight chance for the eye to be healed.
We also took her out to the two American hospital ships that came into Da Nang Bay to care for the sick and wounded American GIs, the Sanctuary and the Repose. The eye doctors on these ships told us to try to get Cong to America for a corneal transplant on the one eye before it deteriorated much longer with the glaucoma. This corneal operation can't be done in Vietnam, as the Vietnamese won't give an eye from their dead for a transplant. They fear to enter the next world without an eye, as they think they would then be blind forever.
The American doctors on the hospital ships and also an eye specialist we wrote to in Pennsylvania, Dr. Strausse, all recommended that we take Cong to San Francisco, California, to Dr. Max Fine in the Mt. Zion Hospital there, as he is world-famous for doing corneal transplants. They said, "He is not only the best doctor in the USA for this work, but likely in the whole world."
The US Marine Air Group (MAG 16) in Da Nang sponsored Cong. Their chaplain Bruce Schumaker wrote to Dr. Fine, asking if he could do the expensive operation free of charge, and Dr. Fine kindly answered, "Yes, I will do it."
Obtaining a passport for a Vietnamese to leave this country sometimes took many months, and in medical cases permission had to be obtained from the Minister of Health. But it took Gordon only two or three days to "walk" through the many offices and obtain Cong's passport and visa to enter the United States. An enlarged photo of Cong helped a lot too, the fact that we have been here in Vietnam for forty years seemed to impress the various officials concerned.
Gordon asked the manager of Pan American Airways if he could possible obtain free tickets for Cong and me, as her escort, to the States and back and he was most sympathetic. They are swamped, he said, with such requests, and permission had to be obtained from the Minister of Health of the government of Vietnam. In a few days, the head office of P..A.A cabled their willingness to give Cong and me free return tickets, but they didn't want much publicity about it or they'd be overwhelmed with needy cases like this.
So on April 9, 1969, Gordon, Cong, and I took off on an Air America plane form Da Nang to Saigon. An extra stewardess was put on the plane to San Francisco to help little blind Cong and me and also another little three-year-old Vietnamese girl, Thuy, whom I was also escorting to America for adoption. The stewardesses were kind and helpful, amusing the children with toys and dolls. Cong loved to play with all the little salt and pepper holders and tiny plastic cups that we had on our food trays. These kept her amused for hours, as she felt them with her quick, little fingers.
Our jet reached San Francisco in twenty-two hours from Saigon. We left Saigon on Wednesday, April 9, and we arrived in San Francisco on Wednesday, April 9, losing one day enroute.
Friends of ours, Dr. and Mrs. Ulyss Mitchell, came on board to greet us. Also there were about a dozen news and television reporters there to meet little blind Cong. Some came on the plane, taking our pictures before we got off. They, the little adopted child, was met by her new "grandma" to take her to Miami, Florida.
Cong was very quiet and good when the reporters interviewed us in a special room at the airport. She had on her red corduroy overalls, white woolen shirt, and little pink sweater, all clothing from boxes sent to us by friends in America for the orphans. We were nearly frozen in cold San Francisco in April after our hot weather in Vietnam.
The reporters took scores of pictures and the head man of Pan American Airways was there, very kind and friendly. Later we saw ourselves on television in the hospital, although little Cong was too blind to really see anything. Immediately Cong began hugging everybody and going to them lovingly. She was in a warm, joyous mood.
Ulyss and Viola Mitchell drove Cong and me directly to the Mount Zion Hospital where Cong was given a bed in the blue-carpeted pediatrics ward, where she was surrounded by kind, bright nurses. I was asked to stay in her room for two weeks or so, to help keep her company, talking Vietnamese to her. The friendly nurses soon learned some Vietnamese words like nuoc for water and com for rice.
On April 12, Cong went into the operating room and was nearly four hours on the table. Afterward, Dr. Fine came into our room, unsmiling and shaking his head. "Her eyes," he said, "the best one, is very bad! There was no lens in it. The eye had been perforated by the glaucoma. There is only fair hope for this eye. It is not good!"

Little Cong and Mrs. Smith
Then six days later, Dr. Fine put Cong to sleep to observe her eye. He found the transplant was taking nicely. "She will be able to see with glasses," he assured me. I asked him if Cong would just see light and dim shadows, but he said confidently, "She will see a lot with glasses from that one good eye. The glasses will give her the lens she hasn't got." That was thrilling, encouraging news!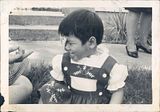 Cong in California
More than twenty-five phone calls in our hospital room came to me from people asking to adopt Cong. The calls were from Philadelphia, Palm Beach, North and South Carolina, New York, Buffalo, Rochester, Ohio, Detroit, Iowa, and many places in California. They had seen Cong's picture in the paper and they wanted this petite, black-haired almond-eyed girl. So Cong could have many homes in the USA!
Beautiful toys were sent to Cong, including a soft Raggedy Ann doll. She received money to buy her some warm house slippers. One stewardess from the plane form Saigon came to the hospital to see Cong and brought her a cuddly toy puppy that played "Brahm's Lullaby," and a little toy xylophone.
Wonderful friends who read about her in the papers and saw her pictures, sent lovely clothes, such as pretty underwear, dresses, a little hat, shoes, T-shirts, socks, gloves, a purse, pajamas, a teddy bear, a jewel box that played music, and lollypops! How kind everyone was! They wrote Cong charming little letters from all over the US and numerous "get well cards." The American people showed beautiful kindness.
It was a tremendous uplift and comfort to my heart, and the hearts of our colleagues in Vietnam, to see their great response toward a poor little blind war orphan from Vietnam. We were greatly moved. Cong would never forget America and all this love and kindness!
Cong's name in this instance translated from Vietnamese means "peacock," but the Marines called her Julie. Soon Cong could say her name in English, "Julie Peacock." She loved ice cream and cottage cheese, calling them "keem" and "chee." She also enjoyed the American cereals, Rice Krispies and Wheaties, calling them "white bread," as they resembled in texture the crisp paper-thin rice wafers the Vietnamese make and which are called banh trang (white bread).
As I stayed with her in her hospital room, sleeping in a bed right beside Cong's, I'd hear her talking, especially in the night, to herself. One night she cried out in Vietnamese, "Oh, the village is burning! Burning! The Communists have set it on fire! The houses are burning! Burning! She then cried out, "Where is my father? Where is my mother? Where is Yen, my sister? Oh, I am so sad! I'm very sad!" She was far away In memory with her loved ones and was living again the terrorist attack of the Communists on her village and home.
Sometimes she'd sing in Vietnamese the little songs she'd learned already at our China Beach Orphanage: "Don't be afraid! Believe on Him." "Jesus loves me, this I know." She'd even sing these for Dr. Max Fine and he'd join in with her.
After three weeks in the hospital, Cong and I were able to move out to the well-known and pleasant missionary receiving home, the Home of Peace in Oakland. I had to take Cong back to Dr. Fine and his colleague, Dr. Picetti, three times a week for another month, for examinations, eye drops, and fresh bandages. Friends drove us from the Home of Peace in Oakland to the San Francisco hospital.
Then the stitches were removed and Cong wore an eye shield with a small lens in it for a while and she began to see things! Sometimes we'd be able to go over to San Francisco by bus and streetcar, and these were great experiences for Cong! She'd want to stay on the bus and go riding all day long. The kind bus drivers would have to carry her off for me.
Millions saw her on nationwide TV, as the TV men came right into the House of Peace with their equipment and took pictures of little Julie Peacock playing with her toys. She had a doll that said, when Cong pulled her wire, "I like ice cream!" Cong would repeat it in a dainty, bell-like voice, "I like ih-ceem! I like ih-ceem!" Her little greeting of "Hello" and "Good-bye" covered the land.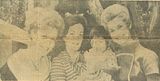 One day in our room at Home of Peace, I was writing at a small table and Cong was playing with some cardboard boxes and her toys. She was talking to her big doll given her by the San Francisco telephone girls, and I quickly jotted down everything she was saying, translating from her Vietnamese. She sounded like a little Vietnamese mother talking to her baby, and she had no thought of me sitting nearby. She must have remembered her mother talking to her like this, as she'd never played with other little girls who had dolls.
She scolded the doll: "You've dirtied your ao and quan (your coat and trousers)! Do you hear me? I'm angry! Very angry! I'll hit you now." She slapped the doll lightly. Then she crooned, clasping the big doll in her arms. "Oh-o-o-o poor baby! Poor little baby!" She petted and sniffed at the baby's cheeks. "Now you've dirtied your hands and your mouth! Where is the soap, heh? M-? m- a-a-m, m-? I'm very angry!" She shook the baby. Then she pretended to wash the hands and face. "Now you're clean!" She "scrubbed-up" the floor around her. "And you've lost your shoes, eh?" You've also lost your inside shirt. Hm?" She shook the doll again, warning, "Don't you dare dirty your clothes or face again! If you do, I'll catch you! Heh? Heh? I'll catch you, like today! Do you hear me?" She stood the doll up and put her face next to the doll's face. She shook the doll again and tapped it light on the cheeks. "I'm angry! Do you hear me? Heh? Heh? Lie down now! Oh-ah! You don't listen to me, Baby! Now can you stay there? Huh? Huh? Do you hear? Sleep now. Sh! Sh! Sh!"
Later on, Cong herself got inside the big cardboard box, I was startled as she suddenly gave a loud wail. It was the heathen cry of mourning for the dead! She chanted: "Oh Mama, oi, oi! I am sad. I am very lonely and sad. I have no one to put me to sleep! I have no one to help me! Your little baby here has no one to help her! Oh Mama! Oh Mama! Oh, don't die, Mama! Oh, my mama is dead already! I'm just a little child, all alone here. Cha oi! Cha oi! My mama is dead already!"
She called on the dead, as the Vietnamese people do, in a long, plaintive cry, and with a quivering, tearful voice, she said, "There is no one to help care for me; I'm just a little baby!" She rocked in the cardboard box saying, "Oh, tch! Tch! Tch! Ai-ee-ee-ya!" Many times she mourned, "O, o, o-a-oi! Mama! Mama! Today you died! O Mama, oi! Amen? (She had learned "Amen" through the prayers in the China Beach Orphanage.) "There is no one to care for this little child! I saw Mama laid in this box and put down into the earth!" Then she called on God as she'd learned to do at China Beach. "For God so loved the world that He gave." That is all she remembered of the verse. Then she closed with "Amen. A-men!" She now said to her little doll, lying where she'd laid her on the mat, "Little child, sing about Jesus! Stand up and sing! 'For God so loved the world that He gave, One."
I wrote down what she said, word for word, and my heart was very touched as this little orphan girl of three and a half years opened up pictures to me of the great sorrows in her little life. She had lost her mother, the biggest tragedy which could befall any child.
While in the Bay area of San Francisco and Oakland, I was able to take a number of meetings in churches and Bible colleges while friends at the Home of Peace looked after Cong. Then Cong and I flew down to Los Angeles for the month of June, as I could now put the drops in Cong's eyes myself. We stayed with our old friends the Cliff Smiths and took many meeting in churches there.
We visited some of the homes of leading members of the famous International Orphans, Inc. who were helping us at that time in building a four-story building at our China /Beach Orphanage in Da Nang, in memory of General Hochmuth, who had recently been killed by the Communists at Hue.
Tiny, happy Julie Peacock was fondly welcomed by these precious, warmly interested I.O.I friends. We also were invited to many churches, and Cong would come with me up to the platform in her new clothes, L.A. style, and she'd smile at the audience. Cong could sing now, showing her two rows of small, perfect teeth. And Cong could laugh! She would talk to the people using her new English words, and this was her little speech: "Hi! Marines! Dr. Max Fine! San Francisco, Julie Peacock. Bye-bye!" The audiences fell in love with her.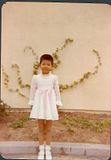 It was as if little Cong felt she had an important mission to accomplish, and she did it charmingly. She turned people's attention to another side of Vietnam; the generosity and tenderness of the US Marines, the worthwhileness of bringing the unwanted and needy little ones into places like our China Beach Orphanage, the kindness of so many in America who helped toward restoring Cong's sight, the testimony to the goodness of our Lord in making it all possible.
For one week, while we were in Los Angeles, I was able to leave Cong in Mrs. Ruth Smith's care, and I flew to Washington, DC, to visit our oldest son, Douglas, his wife, Ruth, and our three grandchildren, Linda, Douglas, Jr. and Jacqueline. It was a very happy time.
… I was also able to meet our son Leslie back in Los Angeles when he arrived there with two little Vietnamese boys from Da Nang who had to have urgent open-heart surgery in the University of Missouri Hospital.
The Cliff Smiths, Cong, and I met them at the Los Angeles airport. I had to weep as we saw Leslie pushing the wheelchair from the plane, with the two little Vietnamese boys in it, huddled up in sharp pain. They were dressed in a few odd bits of clothing from boxes sent by friends in America. They had had a bad time on the trip, for the boys were very ill and had heart pain, and the stewardesses had to give them oxygen. Leslie gave up his seat to them so that they could lie down, and he didn't get much sleep from Saigon to Los Angeles.
We had a good visit together around the boys' beds, as they stayed the night in a hotel near the airport, leaving the next day at noon for Columbia, Missouri.
Leslie phoned me several times and was so happy to report that the two boys, one of whom was given only a 30-percent chance of recovery, had been operated upon successfully. Leslie brought the boys back to Vietnam one month after I returned with Cong.
On July 1, Cong and I went back to San Francisco and Dr. Max Fine had Cong fitted with strong glasses, and her lovely dark eye now could see a lot! She ran lovingly into everyone's arms and was a real charmer.
While in San Francisco, Dr. and Mrs. Matzger met me at the Mt. Zion Hospital and asked me if I would take back to Vietnam a little two-year-old Vietnamese girl called Vinh. Dr. Matzger had brought the little child to America a year before for open-heart surgery. The operation was successful and little Vinh had stayed with the Matzgers in their Home. Now Vinh was ready to return to her parents in Dong Ha, a town near the Demilitarized Zone, one hundred miles north of Da Nang.
On Thursday, July 3, Cong, Vinh, and I left San Francisco. Our friends the Ulyss Mitchells, Mrs. Ruth Smith and her sons, Todd and Bill, and Dr. and Mrs. Matzger were all there to see us off.
At the airport, Cong ran from one big window to another, looking at the huge glistening and gleaming jets. She hadn't been able to see them when we arrived in Los Angeles three months before! Now with her new eye and glasses she could see, and she shouted with excitement and delight! The people in the waiting rooms were touched at the miracle in this little child's tragic life!
When we got on the Pan American Clipper, Vinh cried heartbrokenly for her dearly loved American "parents" and Cong cried for her "Mummy" Ruth Smith, who had looked after her so lovingly. A stewardess brought a bottle of milk for Vinh and, after drinking it thirstily, she fell asleep. Cong, too, settled down into her comfortable seat and didn't cry anymore.
As the plane was full going to Honolulu, we could only have one seat each. So I sat in the middle seat with the chi8ldrten lying on each side of me, with their little feet in my lap. We traveled like that all the way to Saigon. Cong and Vinh slept most of the way, just sitting up to eat the delicious meals.
We arrived at Saigon on a Saturday morning. On our trip back we had gained a whole day. Gordon and two press reporters were at the plane steps to meet us. After a number of photos, the AP reporter kindly drove us to the C. & M. A. mission home in his car.
The heat of Vietnam in July was, of course, overwhelming! We soon had the children sitting under a lukewarm shower, and they didn't need to wear much clothing. The long trip, change of time, and the great heart, made them just want to lie on their beds under the ceiling fan and sleep most of the time. The next day, Sunday, we dressed the children in their prettiest American clothes and took them to the International Protestant Church in Saigon, which has services in English. The children sat quietly through the service and were warmly greeted by many of our friends afterward.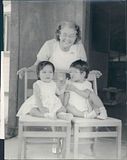 After lunch, we were driven to the airport and got on an Air America two-engine plane for Da Nang. Again little Vinh slept all the way, lying down in the seat, but Cong was too thrilled about getting back to Da Nang and to all her old friends there to go to sleep.
The three Dutch missionaries, Mimi, Nelly, and Yohan, met us at the plane. Cong was very excited to really see these, her former nurses, for the first time! All the people on the mission property gave us a warm welcome. We put two mattresses down on our living room floor for the two little girls, where it was cooler for them in the 94 degrees for sleeping.
The Vietnamese children on our compound came in and stood staring at Cong! They couldn't get over the miracle of her being able to see now, and of her wearing glasses!
Little Vinh played with her toys in her small traveling box from America and kept looking at the colored photos of her temporary foster parents, Dr. and Mrs. Matzger, which they had put into her box for her. She repeated softly, "Mummy," "Daddy" over and over. Everyone at our house fell in love with the sweet little girl sitting so quietly and looking so trustingly at us with her big, beautiful brown eyes.
We took the children to Marine Air Group 16, who had helped finance their little mascot Cong's way in America. She charmed the commanding officer and Chaplain Bruce Schumacher with her bright, warm ways and loving hugs. The Marines often visited Cong from then on at China Beach Orphanage.
The next morning, a Marine arrived from Dong Ha to take little Vinh back to her own parents. Her father is a policeman in Dong Ha. We all felt sad saying good-bye to her as she went off in a plane. But we have kept in touch with Vinh and her family up to the present day.
When we arrived at the China Beach Orphanage with Cong, she was immediately surrounded by scores of children eager to see if she could really "see" them. Now they wouldn't have to watch that she didn't fall off the veranda or bump into a wall. Cong looked like a little princess doll in her pretty clothes from America, and when we unloaded all her toys and dolls, everyone gasped! She unselfishly shared many of her nice things with the other children in the small tots' room, and then she settled down well into the pleasant routine of the orphanage life.
To see all the pictures of Little Cong and the China Beach Orphanage go here.
Nueng Te Cong would go on to be adopted by an American family at the age of nine and would grow up in the United States. Now, as Kimberly Su Delaney, she has a beautiful family and resides in the Chicago area.